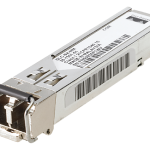 25-Gigabit Ethernet Transceiver Modules Compatibility Matrix
Because requirements and procedures for initial configurations and software upgrades tend to change, you should always refer to the switch or router software release notes for the latest information. Before installing, configuring, or upgrading a switch, refer to the product release notes on Cisco.com for the latest information. This compatibility matrix does not replace or supersede the release notes.
This publication lists the Cisco platforms and the minimum required software versions to support 25-Gigabit Ethernet transceiver modules.
25-Gigabit Ethernet Transceiver Modules
Model Number

Transceiver Description

SFP-25G Transceivers

SFP-25G-SR-S

SFP28 for MMF, 100-meter over OM4

SFP-H25G-CU1M

25G Copper Cable 1-meter

SFP-H25G-CU2M

25G Copper Cable 2-meter

SFP-H25G-CU3M

25G Copper Cable 3-meter

SFP-H25G-CU5M

25G Copper Cable 5-meter
Data Center Switching Minimum Software Release Requirements
Platform

Switch or Module

Transceiver Model

Minimum Software Release Required

DOM Support

Software Release

Cisco Nexus 9000 Series (Fixed 9200)

N9K-C92160YC-X

SFP-H25G-CU1M
SFP-H25G-CU2M
SFP-H25G-CU3M*

—

NX-OS 7.0(3)I3.1

Cisco Nexus 9000 Series (Fixed 9300EX)

N9K-C93180YC-EX

SFP-H25G-CU1M
SFP-H25G-CU2M
SFP-H25G-CU3M*

—

NX-OS 7.03I4.2 / ACI-N9KDK9-11.3