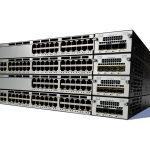 Updated:Oct 30, 2015
Cisco announces the end-of-sale and end-of-life dates for the Cisco Catalyst 3560-X and 3750-X Series Switches. The last day to order the affected product(s) is October 30, 2016. Customers with active service contracts will continue to receive support from the Cisco Technical Assistance Center (TAC) as shown in Table 1 of the EoL bulletin. Table 1 describes the end-of-life milestones, definitions, and dates for the affected product(s). Table 2 lists the product part numbers affected by this announcement. For customers with active and paid service and support contracts, support will be available under the terms and conditions of customers' service contract.
Please expect a list price increase for the products listed in this announcement in the next 12 months.
The EOL milestones also apply to the bundle and promotional PIDs.
Cisco hardware warranty support will be discontinued on the Last Date of Support (LDoS).
End-of-Life Milestones and Dates for the Cisco Catalyst 3560-X and 3750-X Series Switches
Milestone

Definition

Date

End-of-Life Announcement Date

The date the document that announces the end-of-sale and end-of-life of a product is distributed to the general public.

October 31, 2015

End-of-Sale Date

The last date to order the product through Cisco point-of-sale mechanisms. The product is no longer for sale after this date.

October 30, 2016

Last Ship Date:
HW

The last-possible ship date that can be requested of Cisco and/or its contract manufacturers. Actual ship date is dependent on lead time.

January 28, 2017

End of SW Maintenance Releases Date:
HW

The last date that Cisco Engineering may release any final software maintenance releases or bug fixes. After this date, Cisco Engineering will no longer develop, repair, maintain, or test the product software.

October 30, 2017

The last-possible date a routine failure analysis may be performed to determine the cause of hardware product failure or defect.

October 30, 2017

End of New Service Attachment Date:
HW

For equipment and software that is not covered by a service-and-support contract, this is the last date to order a new service-and-support contract or add the equipment and/or software to an existing service-and-support contract.

October 30, 2017

End of Vulnerability/Security Support:

HW

The last date that Cisco Engineering may release a planned maintenance release or scheduled software remedy for a security vulnerability issue.

October 30, 2019

End of Service Contract Renewal Date:
HW

The last date to extend or renew a service contract for the product.

January 28, 2021

Last Date of Support:
HW

The last date to receive applicable service and support for the product as entitled by active service contracts or by warranty terms and conditions. After this date, all support services for the product are unavailable, and the product becomes obsolete.

October 31, 2021
Product Part Numbers Affected by This Announcement
| | | | | |
| --- | --- | --- | --- | --- |
| End-of-Sale Product Part Number | Product Description | Replacement Product Part Number | Replacement Product Description | Additional Information |
| C3KX-NM-10G | Catalyst 3K-X 10G Network Module option PID | C3850-NM-2-10G | Cisco Catalyst 3850 2 x 10GE Network Module | - |
| C3KX-NM-10G= | Catalyst 3K-X 10G Network Module | C3850-NM-2-10G= | Cisco Catalyst 3850 2 x 10GE Network Module | - |
| C3KX-NM-10GT | Catalyst 3K-X 10G-T Network Module | There is currently no replacement product available for this product. | - | - |
| C3KX-NM-10GT= | Catalyst 3K-X 10G-T Network Module | There is currently no replacement product available for this product. | - | - |
| C3KX-NM-1G | Catalyst 3K-X 1G Network Module option PID | C3850-NM-4-1G | Cisco Catalyst 3850 4 x 1GE Network Module | - |
| C3KX-NM-1G= | Catalyst 3K-X 1G Network Module | C3850-NM-4-1G= | Cisco Catalyst 3850 4 x 1GE Network Module | - |
| C3KX-NM-BLANK= | Catalyst 3K-X Network Module Blank Spare | C3850-NM-BLANK= | Cisco Catalyst 3850 Network Module Blank | - |
| C3KX-SM-10G | Catalyst 3K-X 10G Service Module | C3850-NM-2-10G | Cisco Catalyst 3850 2 x 10GE Network Module | - |
| C3KX-SM-10G= | Catalyst 3K-X 10G Service Module Spare | C3850-NM-2-10G= | Cisco Catalyst 3850 2 x 10GE Network Module | - |
| WS-C3560X-24P-E | Catalyst 3560X 24 Port PoE IP Services | WS-C3650-24PD-E | Cisco Catalyst 3650 24 Port PoE 2x10G Uplink IP Services | - |
| WS-C3560X-24P-L | Catalyst 3560X 24 Port PoE LAN Base | WS-C3650-24PD-L | Cisco Catalyst 3650 24 Port PoE 2x10G Uplink LAN Base | - |
| WS-C3560X-24P-S | Catalyst 3560X 24 Port PoE IP Base | WS-C3650-24PD-S | Cisco Catalyst 3650 24 Port PoE 2x10G Uplink IP Base | - |
| WS-C3560X-24T-E | Catalyst 3560X 24 Port Data IP Services | WS-C3650-24TD-E | Cisco Catalyst 3650 24 Port Data 2x10G Uplink IP Services | - |
| WS-C3560X-24T-L | Catalyst 3560X 24 Port Data LAN Base | WS-C3650-24TD-L | Cisco Catalyst 3650 24 Port Data 2x10G Uplink LAN Base | - |
| WS-C3560X-24T-S | Catalyst 3560X 24 Port Data IP Base | WS-C3650-24TD-S | Cisco Catalyst 3650 24 Port Data 2x10G Uplink IP Base | - |
| WS-C3560X-24U-E | Catalyst 3560X 24 Port UPOE IP Services | WS-C3650-24PD-E | Cisco Catalyst 3650 24 Port PoE 2x10G Uplink IP Services | - |
| WS-C3560X-24U-L | Catalyst 3560X 24 Port UPOE LAN Base | WS-C3650-24PD-L | Cisco Catalyst 3650 24 Port PoE 2x10G Uplink LAN Base | - |
| WS-C3560X-24U-S | Catalyst 3560X 24 Port UPOE IP Base | WS-C3650-24PD-S | Cisco Catalyst 3650 24 Port PoE 2x10G Uplink IP Base | - |
| WS-C3560X-48P-E | Catalyst 3560X 48 Port PoE IP Services | WS-C3650-48PD-E | Cisco Catalyst 3650 48 Port PoE 2x10G Uplink IP Services | - |
| WS-C3560X-48P-L | Catalyst 3560X 48 Port PoE LAN Base | WS-C3650-48PD-L | Cisco Catalyst 3650 48 Port PoE 2x10G Uplink LAN Base | - |
| WS-C3560X-48P-S | Catalyst 3560X 48 Port PoE IP Base | WS-C3650-48PD-S | Cisco Catalyst 3650 48 Port PoE 2x10G Uplink IP Base | - |
| WS-C3560X-48PF-E | Catalyst 3560X 48 Port Full PoE IP Services | WS-C3650-48FD-E | Cisco Catalyst 3650 48 Port Full PoE 2x10G Uplink IPServices | - |
| WS-C3560X-48PF-L | Catalyst 3560X 48 Port Full PoE LAN Base | WS-C3650-48FD-L | Cisco Catalyst 3650 48 Port Full PoE 2x10G Uplink LAN Base | - |
| WS-C3560X-48PF-S | Catalyst 3560X 48 Port Full PoE IP Base | WS-C3650-48FD-S | Cisco Catalyst 3650 48 Port Full PoE 2x10G Uplink IP Base | - |
| WS-C3560X-48T-E | Catalyst 3560X 48 Port Data IP Services | WS-C3650-48TD-E | Cisco Catalyst 3650 48 Port Data 2x10G Uplink IP Services | - |
| WS-C3560X-48T-L | Catalyst 3560X 48 Port Data LAN Base | WS-C3650-48TD-L | Cisco Catalyst 3650 48 Port Data 2x10G Uplink LAN Base | - |
| WS-C3560X-48T-S | Catalyst 3560X 48 Port Data IP Base | WS-C3650-48TD-S | Cisco Catalyst 3650 48 Port Data 2x10G Uplink IP Base | - |
| WS-C3560X-48U-E | Catalyst 3560X 48 Port UPOE IP Services | WS-C3650-48FD-E | Cisco Catalyst 3650 48 Port Full PoE 2x10G Uplink IPServices | - |
| WS-C3560X-48U-L | Catalyst 3560X 48 Port UPOE LAN Base | WS-C3650-48FD-L | Cisco Catalyst 3650 48 Port Full PoE 2x10G Uplink LAN Base | - |
| WS-C3560X-48U-S | Catalyst 3560X 48 Port UPOE IP Base | WS-C3650-48FD-S | Cisco Catalyst 3650 48 Port Full PoE 2x10G Uplink IP Base | - |
| WS-C3750X-12S-E | Catalyst 3750X 12 Port GE SFP IP Services | WS-C3850-12S-E | Cisco Catalyst 3850 12 Port GE SFP IP Services | - |
| WS-C3750X-12S-S | Catalyst 3750X 12 Port GE SFP IP Base | WS-C3850-12S-S | Cisco Catalyst 3850 12 Port GE SFP IP Base | - |
| WS-C3750X-24P-E | Catalyst 3750X 24 Port PoE IP Services | WS-C3850-24P-E | Cisco Catalyst 3850 24 Port PoE IP Services | - |
| WS-C3750X-24P-L | Catalyst 3750X 24 Port PoE LAN Base | WS-C3850-24P-L | Cisco Catalyst 3850 24 Port PoE LAN Base | - |
| WS-C3750X-24P-S | Catalyst 3750X 24 Port PoE IP Base | WS-C3850-24P-S | Cisco Catalyst 3850 24 Port PoE IP Base | - |
| WS-C3750X-24S-E | Catalyst 3750X 24 Port GE SFP IP Services | WS-C3850-24S-E | Cisco Catalyst 3850 24 Port GE SFP IP Services | - |
| WS-C3750X-24S-S | Catalyst 3750X 24 Port GE SFP IP Base | WS-C3850-24S-S | Cisco Catalyst 3850 24 Port GE SFP IP Base | - |
| WS-C3750X-24T-E | Catalyst 3750X 24 Port Data IP Services | WS-C3850-24T-E | Cisco Catalyst 3850 24 Port Data IP Services | - |
| WS-C3750X-24T-L | Catalyst 3750X 24 Port Data LAN Base | WS-C3850-24T-L | Cisco Catalyst 3850 24 Port Data LAN Base | - |
| WS-C3750X-24T-S | Catalyst 3750X 24 Port Data IP Base | WS-C3850-24T-S | Cisco Catalyst 3850 24 Port Data IP Base | - |
| WS-C3750X-24U-E | Catalyst 3750X 24 Port UPOE IP Services | WS-C3850-24U-E | Cisco Catalyst 3850 24 Port UPOE IP Services | - |
| WS-C3750X-24U-L | Catalyst 3750X 24 Port UPOE LAN Base | WS-C3850-24U-L | Cisco Catalyst 3850 24 Port UPOE LAN Base | - |
| WS-C3750X-24U-S | Catalyst 3750X 24 Port UPOE IP Base | WS-C3850-24U-S | Cisco Catalyst 3850 24 Port UPOE IP Base | - |
| WS-C3750X-48P-E | Catalyst 3750X 48 Port PoE IP Services | WS-C3850-48P-E | Cisco Catalyst 3850 48 Port PoE IP Services | - |
| WS-C3750X-48P-L | Catalyst 3750X 48 Port PoE LAN Base | WS-C3850-48P-L | Cisco Catalyst 3850 48 Port PoE LAN Base | - |
| WS-C3750X-48P-S | Catalyst 3750X 48 Port PoE IP Base | WS-C3850-48P-S | Cisco Catalyst 3850 48 Port PoE IP Base | - |
| WS-C3750X-48PF-E | Catalyst 3750X 48 Port Full PoE IP Services | WS-C3850-48F-E | Cisco Catalyst 3850 48 Port Full PoE IP Services | - |
| WS-C3750X-48PF-L | Catalyst 3750X 48 Port Full PoE LAN Base | WS-C3850-48F-L | Cisco Catalyst 3850 48 Port Full PoE LAN Base | - |
| WS-C3750X-48PF-S | Catalyst 3750X 48 Port Full PoE IP Base | WS-C3850-48F-S | Cisco Catalyst 3850 48 Port Full PoE IP Base | - |
| WS-C3750X-48T-E | Catalyst 3750X 48 Port Data IP Services | WS-C3850-48T-E | Cisco Catalyst 3850 48 Port Data IP Services | - |
| WS-C3750X-48T-L | Catalyst 3750X 48 Port Data LAN Base | WS-C3850-48T-L | Cisco Catalyst 3850 48 Port Data LAN Base | - |
| WS-C3750X-48T-S | Catalyst 3750X 48 Port Data IP Base | WS-C3850-48T-S | Cisco Catalyst 3850 48 Port Data IP Base | - |
| WS-C3750X-48U-E | Catalyst 3750X 48 Port UPOE IP Services | WS-C3850-48U-E | Cisco Catalyst 3850 48 Port UPOE IP Services | - |
| WS-C3750X-48U-L | Catalyst 3750X 48 Port UPOE LAN Base | WS-C3850-48U-L | Cisco Catalyst 3850 48 Port UPOE LAN Base | - |
| WS-C3750X-48U-S | Catalyst 3750X 48 Port UPOE IP Base | WS-C3850-48U-S | Cisco Catalyst 3850 48 Port UPOE IP Base | - |