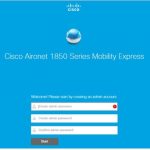 Cisco Mobility Express is a software-based controller function integrated on Cisco 1800 series Wave 2 Access Points. It is a simplified, low cost, feature rich WiFi architecture with enterprise level WLAN capability streamlined for small and mid-sized deployments.
In a Cisco Mobility Express network, Access Point (AP) running the wireless controller function is designated as the Master AP. The other Access Points which are managed by this Master AP are referred as Subordinate APs.
The Master AP has two roles:
It functions and operates as a wireless LAN controller to manage and control the Subordinate APs. The Subordinate APs operates as lightweight access points to serve clients.
wireless LAN containing up to 25 access points and 500 client devices
Supported Cisco Aironet Access Points
| Access Points supported as Master AP | Supported Model Numbers |
| --- | --- |
| Cisco Aironet 1850 Series | |
| Cisco Aironet 1830 Series | |
Access Points supported as Subordinates
| Access Points supported as Subordinate APs | Supported Model Numbers |
| --- | --- |
| Cisco Aironet 700i Series | |
| Cisco Aironet 700w Series | |
| Cisco Aironet 1600 Series | |
| Cisco Aironet 1700 Series | |
| Cisco Aironet 1800 Series | |
| Cisco Aironet 2600 Series | |
| Cisco Aironet 2700 Series | |
| Cisco Aironet 3600 Series | |
| Cisco Aironet 3700 Series | |